Boys aren't reading as well as girls – almost everywhere in the world. Here some things schools can do.
Five Ways to Engage our Boys in Reading
by Paul Kropp
Paul Kropp is the author of young-adult novels such as The Countess and Me and Homerun; the parent book How to Make Your Child a Reader for Life and many novels for reluctant readers published by High Interest Publishing.
Boys aren't reading as well as girls, everywhere in the world. International assessments like the PISA data show that boys read fewer books, don't comprehend as well as girls, and demonstrate less fluency and complexity in their writing. Interestingly, boys don't start out at a disadvantage. Kindergarten and first grade results are pretty much even for girls and boys. But by third grade the gap is evident.
There are lots of reasons for this problem, many of which are beyond the control of schools and teachers. Part of it is simply "male culture," which values sports, video games and active play more than reading.
But one thing we can do something about is a lack of books in our school libraries that appeal to boys. Ask any reluctant boy reader, and he's likely to tell you that "there just aren't any good books" to read. Every boy is different, of course, but there are some interesting patterns in boys' taste in books. Most boys won't touch a book with a female protagonist, for example, while the gender of the main character doesn't matter as much to girls. Also, boys tend to prefer books with plenty of action rather than poetic language and character development.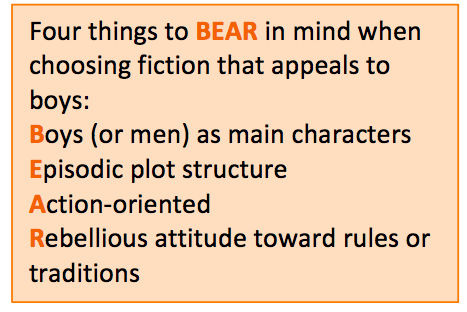 And many boys prefer non-fiction to fiction (much like their fathers, only about 17% of whom will actually read a novel this year). Fortunately, there are many good quality non-fiction books for kids; unfortunately they're often harder to read because of unfamiliar concepts, vocabulary and text structures. Nonetheless, these are the books many boys are likely to choose from the classroom library.
WHAT CAN WE DO?
In addition to stocking our libraries with more "boy books," there are a number of ways we can make our classrooms more "boy-friendly" – without putting our girls at a disadvantage. Here are five tips for the language arts class:
Provide opportunities for choice. Not everything in school can be self-selected, but SSR or classroom reading time certainly can be. We know that struggling readers in particular need daily opportunities for sustained silent reading. And one of the ways to make our SSR more meaningful is by letting students choose what they can and want to 
Try to make learning more active. How we find ways to let our students get up and move during language arts class? Maybe we can allow them to stand for the two-minute think-pair-share time? Even having students track their reading with sticky notes makes reading more active and less passive.
Offer visual supports. Brain research tells us that boys tend to be more visual learners, while girls tend to be more verbal learners. Visual supports during instruction help students comprehend and retain new concepts. Graphic organizers are one way to provide a visual means of organizing information that is read.
Take time for "performance reading." Round-robin reading has never made anyone a better reader, but practising a reader's theater or dramatic reading of a section of text can build fluency, expression and engagement.
Make it a game. Boys are more likely than girls to be engaged by contests, competition or simply an element of chance. Tracking the number of pages read each day, randomly drawing teams or topics for research, or playing group Jeopardy on a common reading are all activities that might just hook a reluctant boy reader.
Research studies in several schools have found that teaching that honors the needs and abilities of boys also generates improved results from girls. Good teaching, as we know, leads to superior learning – and that's true for every student in your class.
Some good reading on the issue:
Millard, Elaine, Differently literate, (London, Falmer, 1997); Newkirk, Thomas, Misreading Masculinity: Boys, Literacy and Popular Culture, (Heinemann, 2002); Pirie, Bruce, Teenage Boys and High School English, (Heinemann, 2002); Smith, Michael and Jeffrey Wilhelm, Reading Don't Fix No Chevys, (Heinemann, 2002)