Managing paper is an essential independent learning routine.  This simple writing folder can help.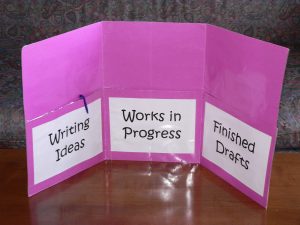 The first pocket holds topic lists and planning sheets.
The second pocket collects incomplete drafts.
The third pocket contains completed drafts.
INSTRUCTIONS FOR MAKING THIS WRITING FOLDER
MATERIALS:  One standard sheet of tagboard, poster board or Bristol board, as heavy as possible while still enabling it to fold.
DIRECTIONS:
1.  Fold the bottom third up to form a horizontal pocket along the bottom.
2.  Fold the entire page into three vertical sections.
3.  Label each pocket:  IDEAS FOR WRITING, WORKS IN PROGRESS, FINISHED DRAFTS.
4.  Invite each student to personalize his/her folder by decorating the cover.
5.  Laminate the entire folder and trim carefully to hold the edges together.  Use a long-arm stapler to staple the pockets.