HIP TEACHER'S GUIDES save teacher time and support student comprehension.
A unique Teacher's Guide accompanies each HIP novel.  The Teacher's Guides are available for purchase individually, but 

FREE

(PDF) with any order of 6 or more copies of the same title or Library Pack. 
HIP Teacher's Guides are developed by international literacy expert and former International Reading Association board member Lori Jamison. These guides provide support for pre-reading, higher-level discussion, comprehension during reading, and meaningful after-reading activities for struggling or reluctant readers.
HIP Teacher's Guides are available in PDF format, which will be sent via email. Most Teacher's Guides are also available in Print format and may be ordered or requested.  View All HIP Teacher's Guides
Note that the HIP SKINWALKERS, DRAGON SPEAKER and QUICKREAD Packs have one Teacher's Guide for all the novels in the Library Pack. HIP offers HIP Teacher's Guide Library Packs for its main series at a discounted price.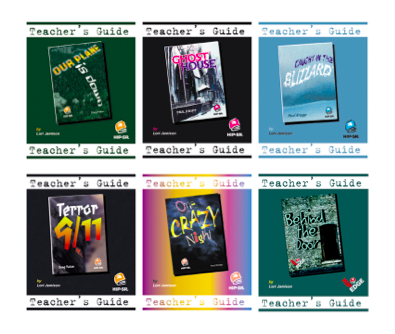 HIP Teacher's Guides include:
chapter-by-chapter plot synopses
pre-reading options
a complementary non-fiction article on the theme of the novel
author comments on the novel
higher-level discussion points
graphic organizers
a menu of after-reading activities
HIP Teacher's Guides are intended to support teachers in using HIP novels for small group instruction, literature circle discussions or independent reading. Based on research of what we know about effective reading instruction, the guides offer: pre-reading activities to build background knowledge and generate interest in the novel; during-reading discussion points to stimulate higher level thinking; and graphic organizers and other response activities to build comprehension and retention.
Each HIP Teacher's Guide chunks the novel into three or four logical sections, with discussion points and graphic organizers. Students can complete the reading on their own, then join a teacher- or student-led discussion group or complete the organizer independently. After reading, there are several creative thinking options to extend and enrich experience with the novel. Some Teacher's Guides also provide written questions and an end-of-novel quiz.  They offer a smorgasbord of activities from which to choose, or a complete novel study unit.