You Can't Make Me
You Can't Make Me, by Métis writer Ashley Hayden, is story of a teenage boy who gets in trouble with the law while trying to impress his friends. A summer of tough love at his grandfather's rural cabin and a terrifying encounter in the bush help to change his attitude and his life. This story combines a contemporary coming-of-age story with traditional Indigenous folklore.
Author: Ashley Hayden
Reading level: Grade 2.8 (Lexile 450L)
Interest level: Grades 6-12
Part of the HIP Hi-School Pack
You Can't Make Me Teacher's Guide available for purchase or free with 6 or more copies of this title.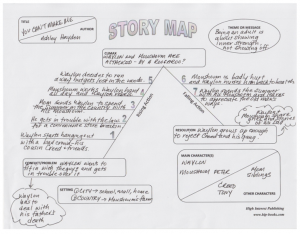 Click on the image at the right to see a a completed STORY MAP GRAPHIC ORGANIZER based on this book.
FREE MULTICULTURAL NONFICTION DOWNLOAD: The Boogeyman will Get You if You Don't Watch Out!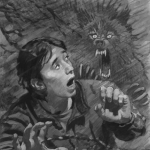 Almost every culture in the world has some sort of imaginary creature invented to frighten children into obeying their parents. You Can't Make Me features an encounter with a Roogaroo, a wolf-like monster from the folklore of the Métis people.  Click here to download this FREE nonfiction article on boogeymen (and women) around the world from the You Can't Make Me Teacher's Guide, along with a graphic organizer for gathering notes and suggestion for further research.