Curse of the Skull – Teacher's Guide
This Teacher's Guide for Curse of the Skull breaks the book into three sections with prompts and questions for discussion or written response.  As well, the guide includes a complementary nonfiction article, chapter-by-chapter summaries, graphic organizers and after-reading options.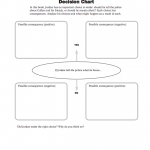 Download a FREE GRAPHIC ORGANIZER from the Curse of the Skull Teacher's Guide.  In this novel, Jordan has a tough decision to make.  Use the Decision Chart to analyze his options and the consequences of each.
The Teacher's Guide will be sent FREE with any order of 6 or more copies of the same title.