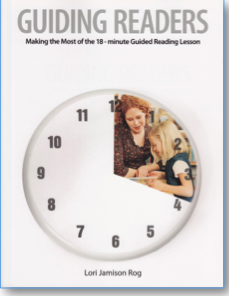 GUIDING READERS: MAKING THE MOST OF THE 18-MINUTE GUIDED READING LESSON
The 18-minute guided reading lesson may very well be the most valuable teaching we do all day because it is focused on student needs and timed at the point of need. This book presents a flexible model of small group reading instruction that is brief, carefully planned, based on learning goals, and totally adaptable to the needs of the students. There are lesson suggestions and follow up "must-do" routines for different stages of development, from emergent readers to struggling readers in upper elementary grades.
"Dear Lori,
I wanted to thank you for your marvelous Guiding Readers.  As a career Intermediate English teacher and teacher librarian, who has rather suddenly found herself teaching 3rd grade with a number of dyslexic emergent readers,  I am finding your book a godsend!  Just wanted you to know how much I appreciate the conversational, friendly tone of your book, and the wonderful ideas.
Sincerely,
Kelly Kowalchuk