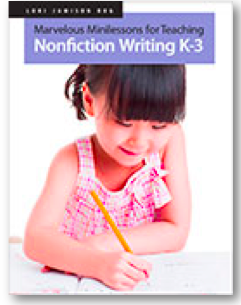 MARVELOUS MINILESSONS FOR TEACHING BEGINNING NONFICTION WRITING K-3
Even our youngest students should have opportunities to use writing all day long. But they can't "write to learn" unless they "learn to write." Lori's newest book is a collection of minilessons for teaching students to use informational ("all-about"), procedural ("how-to") and opinion ("I-think") text forms.  You'll find lessons on strategies such as Hook Your Reader, Super Sentences and The Magic of Three. Each lesson is structured around a learning goal and follows a simple I DO-WE DO-YOU DO model.  There are also tips for managing the writing program for maximum student independence and self-regulation.
Available in Canada from Pembroke Publishers and in the USA from Stenhouse Publishers.