Roller Coaster
$ 10.95
In Roller Coaster, someone is stealing from the local amusement park and Emma and Justin's father has been blamed. When they try to clear his name, they end up hiding out overnight in the Fun House and taking a wild ride on the roller coaster.
Author: E.L. Thomas
Reading level: Grade 2.5  (Lexile 360L)
Interest level: Grades 4-7
Read a Google Books preview of Roller Coaster.
"A quick paced and entertaining read." – Resource Links

Selected by the Canadian Children's Book Centre for inclusion in Best Books for Kids and Teens 2014
For a great online review, click here.
FREE DOWNLOAD:  Home Learning Pack with one-page article on "What Makes a Great Amusement Park" along with Before-, During- and After-Reading Ideas.
Roller Coaster Teacher's Guide available for purchase or free with 6 or more copies of this title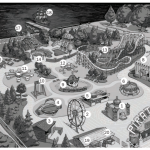 Here is a map of the Amusement Park from the Roller Coaster Teacher's Guide.
Watch this video, in which author Erin Thomas talks about how she created the setting for Roller Coaster.