The Wonder of Wait Time: 3-second Magic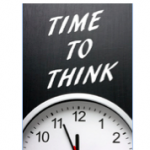 Wait Time refers to the period of silence between the time a question is asked and the time when the question is answered.  Research tells us that, on average, we teachers give students less than 2 seconds to respond before moving on to someone else or answering the question ourselves.  Over 40 years ago, researcher Mary Budd Rowe found that when teachers waited at least 3 seconds, amazing things happened!
The length and quality of student responses increased.
The number of "I don't know" and no-answer responses decreased.
More students volunteered to answer.
Teachers asked fewer, but richer and more varied questions.
Some researchers have turned this concept into "think time," a period of uninterrupted silence so both teacher and students can process the information and consider the response.  This is not just a waiting time, but an intentional thinking time to organize ideas.
It's not as easy as it sounds.  Three seconds of silence can seem interminable.  But it's also powerful.  So the next time you ask an open-ended question, do the count: "one-pineapple, two-pineapple, three-pineapple" before calling on a student. It just might create magic in your class too.