What's the BEST TOOL we have for building FLUENCY and COMPREHENSION?
Readers theater, reader's theatre, readers' theater – no one can quite agree on the spelling, but everyone agrees on one thing:  readers theater may very well be the best tool we have for building fluency, expression, and even comprehension.
A Readers Theater is a prepared performance of a script without actions, sets or (best of all) memorization. All of the drama comes from the voices of the participants as they read their individual roles from scripts.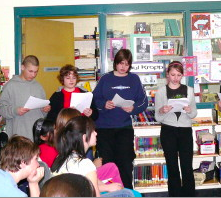 Six tips for teaching Readers Theater:
Read the whole play first so that students understand the overall meaning before breaking it into parts.
Familiarize students with the unique text structure of a script and how to read it.
Have students highlight their own speaking parts – but just the dialogue, not the tag line or stage directions.
Coach students in how to read "as the character", with clarity, diction and appropriate pacing. (Students, especially in upper grades, are rarely taught how to read orally.)
Encourage students to rehearse several times, both on their own and as a group. Here's a rule-of-thumb: require that students read their parts aloud ten times before "performing".
After the reading is polished and ready, you might want to give students an opportunity to add music and props to the final performance, but this is not essential to Reader's Theater.
HIP READERS THEATER BOOK has more teaching ideas and a collection of 16 scripts at easy reading levels.  The READERS THEATER LIBRARY PACK includes the book of scripts and copies of all 16 HIP novels from which the scripts are excerpted.
RUBRIC for assessing Readers Theater defining four levels of proficiency on criteria such as preparation, presentation and group contribution.
FREE READERS THEATER SCRIPT based on Chapter 8 of Ghost House by Paul Kropp – HIP's all-time best-selling title.  In this script, the three characters are trapped in an old house during a thunderstorm.  Suddenly a strange clock begins to chime.  This script features three speaking roles plus two narrators – and plenty of opportunity for audience participation through sound effects.