Make it MULTIGENRE! A Great Year-end Project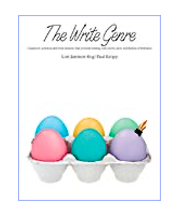 As warm weather beckons, how can we keep kids engaged in authentic learning till summer break?  My favorite year-end task is the Multigenre Research Project – an independent learning experience that enables students to focus on their own interests and buy in at a their own levels. Because my year's writing curriculum revolves around key genres and text forms, the Multigenre project is an ideal culminating activity for my students to apply what they've learned about different forms, purposes and processes of writing.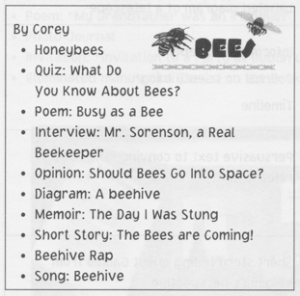 A Multigenre Project is a collection of writing pieces in different text forms, all focusing on a single theme, but each presenting a different perspective on that theme. I usually require a couple of key pieces, such as a research report and an opinion piece, along with 2-3 additional pieces at the individual student's choice.  The image on the right depicts one middle-school student's plan for a Multigenre Project on Bees.
Read more about planning, implementing and evaluating a Multigenre project here.  
You can find a detailed chapter on Multigenre Projects, along with examples from different levels, in our book The Write Genre: Classroom Activities and Minilessons that Promote Writing with Clarity, Style and Flashes of Brilliance, available from Stenhouse in the US and Pembroke in Canada.